Starla Blair, Presentations Chairman
902 Gaslight Dr
Springfield, MO 65810
blair.starla@sbcglobal.net
NFMC is proud to list the outstanding winners of Young Artist Awards selected in Jacksonville, Florida. For more information on booking these winners please contact Starla Blair listed above.  If you are interested in having a Young Artist perform you can download the Young Artist Inquiry form here.
(Click on picture to obtain further information)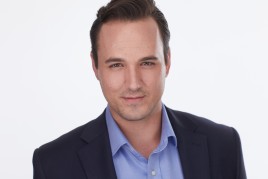 Paul Wolf, Tenor
Paul Wolf, tenor, is an emerging artist and private teacher in the Birmingham area. Mr. Wolf's recent engagements include Opera Birmingham as Spoletta in Tosca, Birmingham Music Club as Ralph Rackstraw in HMS Pinafore. Past season highlights include Benvolio in Romeo et Juliette with Opera Birmingham; Tamino in Die Zauberflöte, and Roy Johnson in The Light in the Piazza with Seagle Music Colony; Sam Kaplan in Street Scene, and Fenton in Die lustigen Weiber von Windsor with University of Alabama Opera Theatre; Alfred in Die Fledermaus and Cpt. Dick Warrington in Naughty Marietta with Birmingham Music Club; Stewpot in South Pacific with Ash Lawn Opera (nor Charlottesville Opera); Second Priest in Die Zauberflöte with Opera Roanoke.
Mr. Wolf is a former Seagle Music Colony Young Artist, a Young Artist Apprentice with Charlottesville Opera, as well as a member of Opera Roanoke's Young Artist Apprentice Program. Mr. Wolf is the 2019 NFMC Young Artist Man's Voice Winner from their 60th Biennial Competition in Jacksonville, Florida. He also placed Second in the 2016 MTNA National Young Artist Vocal Competition in San Antonio, Texas.
Upcoming engagements include creating the role of John Henry Shaw in a brand-new opera, Let Us Now Praise Famous Men written by Joseph Landers as a collaboration between University of Alabama Opera Theatre and the Tuscaloosa Symphony Orchestra for the State of Alabama's Bicentennial.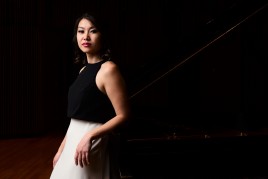 Susan Yang, Piano
Chinese-American pianist, Susan Yang, maintains a versatile career as a performer and educator. Yang began studying piano at the age of four and has garnered numerous prizes and scholarships
throughout her career. She is the 2019–21 National Federation of Music Clubs Young Artist in Piano, and has also been a prizewinner at the International Keyboard Odyssiad Competition,
New York Festival and Competition, Ann Arbor Camerata Competition, Delta Symphony Young Artist Competition, and Naftzger Young Artist Competition. As a chamber musician, she has formed multiple groups that have won various Music Teachers National Association competitions, including the 3rd prize at the 2013 MTNA National Chamber Competition. Recent season highlights include solo appearances with the Ann Arbor Symphony Orchestra performing Beethoven Piano Concerto No. 3 in C minor, and Liszt's Totentanz with the Delta Symphony Orchestra and the Ann Arbor Camerata Orchestra. Upcoming projects include the release of her debut album, DOORWAYS: Half-Remembered Music, and concerto performances with the Nashville Symphony Orchestra.
Yang joined the piano faculty at Vanderbilt University's Blair School of Music in 2018. Previously, she has held positions at the Schoolcraft College, Ann Arbor School for the Performing Arts, and Cincinnati School of Music. She has presented various teaching topics at conferences and institutions such as the MTNA National Conferences, Piano Pedagogy Symposiums, Southwest Ohio Music Teachers Conference, and Capital University. Yang is a two-time recipient of the Royal Conservatory of Music Certificate Program Award for her excellence in teaching and student achievements.
Committed to community outreach, Yang has provided free lessons to low-income students, organized various benefit concerts, and frequently performs in local venues, such as hospitals, libraries, and retirement homes. Her latest project was distributing donated upright pianos throughout the city of Ann Arbor to promote musical activities in the community. Yang received her D.M.A. in Piano Performance and Pedagogy with full support from the Rackham Graduate School at the University of Michigan. As a Jack Kent Cooke Scholar, she obtained her M.M. in Piano Performance from the University of Cincinnati College-Conservatory of Music. She also holds a B.M. cum laude in Piano Performance from Vanderbilt University, with a minor in East Asian Studies. Her primary teachers include Logan Skelton, Elisabeth Pridonoff, and Amy Dorfman.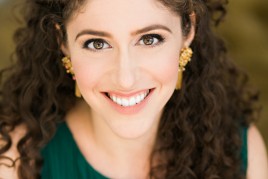 Lily Arbisser, Soprano
Lily Arbisser possesses an "individual-timbred soprano" (Opera News) that "floats effortlessly" (www.feastofmusic.com) over the orchestra. In 2019, Lily joined Ravinia's Steans Music Institute in Chicago as a vocal fellow. She also won first prize in the National Federation of Music Club's Young Artist Competition, was a semi-finalist in the Kurt Weill Foundation's Lotte Lenya Competition, and made her debut at Weill Recital Hall at Carnegie Hall as Suzu in Riyoichi Saito's chamber opera Dojoji.
During the summer of 2018, Lily was an Apprentice Artist at Teatro Nuovo studying Ilia in Mozart's Idomeneo. Other select performance credits include Monica in Menotti's The Medium at the Phoenicia International Festival of the Voice, Pamina in Mozart's Die Zauberflöte with Opera Seabrook, as well as Elle in Poulenc's La voix humaine.
Lily is a frequent concert soloist with choral groups in and around New York City, most recently singing in Beethoven's Symphony No. 9 and Vaughan Williams' Serenade to Music, both with Princeton Pro Musica of Princeton, NJ. She joins Pro Musica again in March 2020 as the soloist in James Whitbourn's "Annelies," a cantata set to text translated from Anne Frank's diary. Other select concert credits include Haydn's Lord Nelson Mass and Orff's Carmina Burana, both with Ars Choralis of Woodstock, NY and the title role in Handel's Theodora with the Columbia University Bach Society.
Lily also demonstrates great enthusiasm for art song performance and frequently gives salon-style house concerts in addition to performing traditional recitals. Her recitals explore a vast repertoire, including beloved Spanish, German, French, Italian, and Russian songs, music of contemporary American composers, 12-tone compositions, and musical theatre, cabaret and tango songs.
A native of Davenport, Iowa, where public schools champion the arts, Arbisser was an avid instrumentalist from an early age, distinguishing herself on cello, French horn, and piano. At the age of seventeen, she was featured as the piano soloist in a performance of Gershwin's Rhapsody in Blue with the Quad City Wind Ensemble. Lily's association with the National Federation of Music Clubs (NFMC) dates to 1994 as a pianist. She earned ten consecutive Superior ratings in the Piano Solo and three in the Senior Piano Concerto divisions of the NFMC's Junior Festival, earning her Fourth Gold Cup. Lily graduated summa cum laude and Phi Beta Kappa from Princeton University with a Bachelor of the Arts in Art and Archaeology and a Certificate in Vocal Performance. She holds a Master of Music degree from Mannes College. www.lilyarbisser.com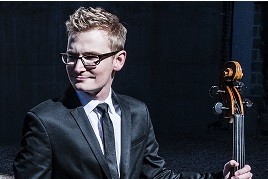 Alex Hersh, Cello
Having already performed as soloist with the Houston Symphony and the Boston Pops, cellist Alexander Hersh has quickly established himself as one of the most exciting and versatile talents of his generation. He has received top prizes at competitions worldwide including the: 2019 Astral Artists National Auditions, New York International Artists Association Competition, Friends of the Minnesota Orchestra, Ima Hogg, Schadt, Artist Concerts Series National Solo Competition, Luminarts Classical Music Fellowship, Borromeo String Quartet Guest Artist Award, Hellam Young Artist Competition, Boston Pops/New England Conservatory Competition, Jefferson Symphony International Young Artists Competition, Society of American Musicians, Saint Paul String Quartet, and the Fischoff National Chamber Music competition.
The Musiq3 critics of the RTBF Belgian Radio company gave Hersh's performance at the inaugural Queen Elisabeth Cello Competition in Belgium in 2017 a rave review: "With his scenic presence and charm, Hersh has everything to become the darling of the public."
A passionate chamber musician, Hersh has performed the complete string quartets of Béla Bartok and Alban Berg and much of the rest of the chamber music canon at music festivals worldwide including: Marlboro, Caramoor, Ravinia Steans Music Institute, Music@Menlo, I-M-S Prussia Cove, Perlman Music Program Chamber Music Workshop, Piatigorsky International Cello Festival, Amsterdam Cello Biennial, Kneisel Hall, Lucerne, New York String Orchestra Seminar, Domaine Forget, and the Meadowmount School of Music.
Hersh is co-artistic director of NEXUS Chamber Music, a collective of international artists committed to stimulating interest in serious chamber music. NEXUS presents a two week chamber music festival across the city of Chicago each August, featuring new and obscure works alongside standard works of the chamber music canon. NEXUS plays to unusual and intimate venues with the mission of breaking down the barriers that often separate performers from audience members.
A 4th generation string player, Alexander's parents, Stefan and Roberta, are both active professional violinists. His grandfather, Paul Hersh, is professor of viola and piano at San Francisco Conservatory of Music, and his great grandfather, Ralph Hersh, was a member of the WQXR and Stuyvesant String Quartets, and principal violist of the Dallas and Atlanta Symphony Orchestras.
Raised in Chicago, Alexander Hersh began playing the cello at the age of 5. He studied with Steve Balderston and Hans Jørgen Jensen, and attended the Academy at the Music Institute of Chicago. Hersh received his B.M. from New England Conservatory (with academic honors) where he was a student of Laurence Lesser and recipient of the Clara M. Friedlaender Scholarship. In May of 2017, he received his M.M. from New England Conservatory where he studied under the tutelage of Paul Katz and Kim Kashkashian. Hersh was a recipient of the Frank Huntington Beebe fund for studies in Berlin during the 2017 – 2018 academic year where he studied with Nicolas Altstaedt at the Hanns Eisler Hochschule for Musik Berlin. He plays a G.B. Rogeri cello on generous loan from a sponsor through Darnton & Hersh Fine Violins in Chicago, IL.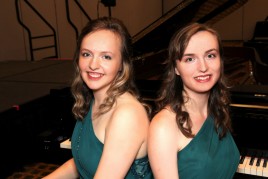 Carney-Terrall Duo, Duo Pianists
The Portland, Oregon-based Carney-Terrall Duo has performed together since 2014. Coached by Dr. Jill Timmons, they placed first at the 2016 US International Duo Piano Competition in Colorado Springs, and locally, won the Maude Sardam Collaborative Prize. The duo has performed throughout the US including concerts for Classic Pianos and The Yamaha Corporation of America. Their performances have taken them to Bellevue, Washington; Denver, Colorado; Portland, Oregon; and Anchorage, Alaska. In the summer of 2018, they performed in New York City for the Classical Bridge Academy as well as the Piano Arts in Netarts festival in Oregon. Most recently they were chosen to perform in a master class given by Sara Davis Buechner.
Colleen Carney is an active artist/teacher. She combines solo and collaborative work with her passion for arranging and composing. Based in Portland, Oregon, she is also active as a music educator for several community music schools along with her work as an accompanist for local concert choirs, show choirs, and dance troupes. She received a Bachelor of Music degree from the University of Nebraska-Lincoln. As a scholarship student, she studied piano with Dr. Ann Chang and participated in numerous master classes hosted by renowned pianists such as Yekwon Sunwoo, Stephen Hough, and Simone Dinnerstein. While at the University, Colleen had the opportunity to collaborate with student filmmakers at UNL's Johnny Carson School of Theatre and Film and her
score for Jack Hoppe's "Breakdown" (2018) was premiered at the Omaha Film Festival. Prior to her college work, Colleen was an active performer, garnering numerous performance awards from the Oregon Music Teachers Association and working throughout high school as a professional collaborative pianist. She won the Jewish Community Orchestra's concerto competition, performing Chopin's Concerto in E minor, Op. 11.
Melissa Terrall is an award-winning pianist from Portland, Oregon. She has performed Beethoven's Piano Concerto No. IV in G Major, Op. 58, with both the Oregon Sinfonietta and Portland's Jewish Community Orchestra. A recipient of the Jacqueline Olsson scholarship, she completed her Bachelor of Music degree in piano performance at Portland State University, where she studied with Dr. Julia Lee. Other awards include the Portland Monday Musical Club, Gladys Strong, and International Keyboard Institute scholarships. In 2015 and 2016, she was an alternate in the Music Teachers National Association's Young Artists state competition. She has participated in master classes with many international artists, including Jon Kimura Parker, Inna Faliks, Peter Serkin, and Nelson Goerner. In 2017, she participated in a study abroad program in Barcelona where she received coaching from renowned Italian pianist, Ludovica Mosca. Melissa maintains a private piano studio in the greater Portland area and frequently works as a collaborative pianist with choirs, chamber music ensembles, and soloists.