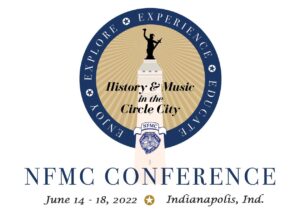 "Back Home again in Indiana and it seems that I can see….."
Welcome back to the Hoosier State and Indianapolis – home of the NFMC. Indianapolis is known as the 'Crossroads of America' where major interstate highways crisscross, bringing you from the North, South, East and West to the great state of Indiana! There are many nicknames for our city: 'Circle City' 'Indy' and 'Railroad City.'
Indianapolis is excited to host the 2022 Conference. Come early, or stay late, to enjoy relaxed sightseeing around our city. Some highlights are: Indianapolis Zoo, Butterfly Kaleidoscope, White River State Park, Indianapolis Motor Speedway, Indianapolis Children's Museum, Eiteljorg Museum, Newfields, Indianapolis Museum of Art, Mass Ave Arts District, and the home of President Benjamin Harris. Indianapolis has more historic monuments and memorials than any other city in the United States, outside of Washington, D.C. A few of interest are: USS Indianapolis Memorial, Veterans Memorial Plaza, National Headquarters of the American Legion, and Land Mark of Peace (9/11 memorial.) Take a drive to historic Parke County which has the most covered bridges of any county in the world.
Circle City Conference begins on Tuesday (June 14) with President's Day Training, and an evening concert with Cathy Morris, violinist (local talented artist).
Wednesday (June 15) The morning celebrates the opening of our conference with a presentation by Dr. James Weaver of the National Music Council with Partnerships-Circles of Success. The regions gather for Regional Luncheons with the theme Welcome to Indiana!: NE-Sugar Cream Pie Sonata, NC-Peony Prelude, SE-Cardinal Cantata, SC-Tulip Tree Tango and W-Firefly Flamenco.
An afternoon workshop Meet a Composer: Piano and Vocal Music by Jeremiah Evans composer, with Soprano Liana Valente. The evening concert will feature our Young Artists; Rachel Breen, piano, John-Henry Crawford, cellist, and Shaina Martinez, soprano. A reception will follow the concert.
Thursday (June 16) Informative workshops, Conquering New Frontiers: Virtual Presence by Valerie Harris, Circling Through NFMC History with George Keck, Happy Dog Duo with Nathan Cheung and Eric Tran, and Paws & Think Animal Therapy with Kelsey Burton. Attend the Rose Fay Thomas Fellows Luncheon where the world-renowned Indianapolis Children's Choir will perform for you, along with a presentation by the Director Josh Pedde. An evening concert by the Circle City Ringers completes the day.
Friday (June 17) The annual business meeting of the NFMC will wrap up in the morning with a presentation by Chris Lewis, about the Great American Songbook. A morning workshop with Dr. Jason Sifford, Meet a Composer is before lunch. The Festival Chorus will share their talent at 1:30p, directed by Dan Anderson. We gather for the banquet Music and Friendship, an Unending Circle followed by a concert with the Ellis Duo pianists, the Rector-Hong Duo.
Saturday, (June 18) The morning begins with a Memorial Service, Circle of Remembrance and Honor. The NFMC Board of Directors and Executive Committee meet to conclude our 2022 Conference.
Your attendance at the NFMC Conference is welcomed and valued. Not only is the business of our Federation conducted, as we can gather face to face after several years absence, we also have fun! Our conference hotel, the Sheraton Indianapolis City Centre is downtown – a prime location for fine dining, shopping and sightseeing. We look forward to you visiting our great city to be part of circle city history, arts, and culture. See you in Indianapolis!
On behalf of the 2022 NFMC Conference Committee, Heidi O Hong, Chair. Members: Linda Maurhoff, Naomi Sanchez, Liana Valente, Julie Watson
Program Book
State President Reports
Chairman Reports
Programs:
  Circle City Ringers Concert
  Ellis Duo Concert
  Young Artist Concert
  Memorial Service
Hotel Reservations – Sheraton Indianapolis City Centre Hotel
Welcome Letter
Official Call
Schedule
Registration Form
Voting Credentials/Memorial Contributions