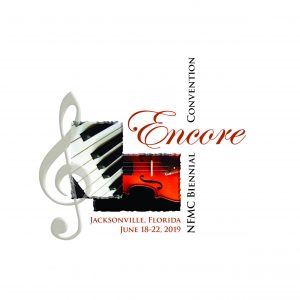 ENCORE!
NFMC 60th BIENNIAL CONVENTION WRAP-UP
By Lisa Smith, Convention Chair
As palm trees gently swayed in the midst of a typical Florida hot and humid day (90° with a heat index of a 102°) almost two hundred and thirty National Federation of Music Club members descended upon Jacksonville's riverfront paradise. Jacksonville was proud and honored to welcome all who attended the NFMC 60th Biennial Convention June 18-22.
Tuesday went "swimmingly." Early morning light revealed the first of many online festival presentations and tutorials facilitated by the IT Indiana crew led by its most capable captain, Robert Kanter. He and his band of buccaneers ensured through these meetings that all mates would be well educated in the ways of online Festival management and would not be caught with their skivvies down once area and state Festivals were "on-boarded."  The day cruised by filled with many informative and productive committee meetings. Attendees experienced once again the joy of being reunited with friends from all over the nation who share a mutual love for music and NFMC.  As dusk approached, so did the time for some members of the group to embark on a new and different adventure. One hundred and fifty brave souls decided to brave the raging Jacksonville rush hour traffic in order to join Ariel and Sebastian under the sea at the Alhambra Dinner Theatre.  Upon a safe and uneventful landing, the group selected dinner from an eclectic menu which included items such as watermelon and tomato salad, Manhattan clam chowder, shrimp and leek gratin, BBQ beef brisket, strawberry cupcake topped with Froot Loops, and Ursula's decadent chocolate brownie.  Based on the story by Hans Christian Anderson and the 1989 Disney movie of the same name, the Alhambra's production of "The Little Mermaid" was stellar; from the amazing costumes and sets to the acting and music all those present were treated to a fabulous outing.
With the majestic sounding of trumpets showcasing the talents of the Ancient City Brass Band as well as our very vocally gifted NFMC Parliamentarian, Louis William Rose, the official opening of the 60th NFMC Biennial Convention commenced Wednesday morning. Dr. Liana Valente presented a comprehensive workshop titled, "NFMC and the United Nations." She explained in great depth the United Nation's 17 Sustainable Development Goals program and its quest to help ensure a healthier and more sustainable future for all of the world's inhabitants.  Further, she explained that the sustainable development goals target global challenges including climate change, inequality, and poverty with the intent of reaching those goals by 2030 and encouraged us to get involved. The highlight of the regional luncheons was a visitation by some renegade Florida officials (whose identities shall remain anonymous to protect the guilty) dressed in beach attire and other accoutrements singing the praises of outgoing NFMC President Michael Edwards. Twila Miller gave us a look at autism through the lens of creative motion which one member said was "life changing" and another said "we should have Twila every time we have a convention. She makes the content accessible and she is so knowledgeable." Widely acclaimed arranger, composer, teacher, and performer Gail Smith was a whirlwind of energy giving music lovers sound advice in the morning and dazzling us in the evening with her expertise and portrayal of Clara Schumann.
Anthony G. Cardella, the Student/Collegiate winner in piano sponsored by the Wisconsin Federation of Music Clubs, opened the Thursday festivities with a riveting performance of Janacek's "In the Mists" and "The Lark" by Balakirev. Carolyn Nelson, NFMC Finance Division Chair, gave us an encore presentation of how NFMC finances work and in particular NFMC endowments. I was especially excited that in one of her examples she apparently foresaw I would be able to contribute $10,000 to NFMC at some point in my life J. Michael Plaut gave us an introduction and personal insight into the New Horizons program that began at the Eastman School of Music as an opportunity for older adults to return to music, and he explained his own involvement with the program.  The heavenly sounds of pre-luncheon music performed by harpist Isabella Scott were captivating and set the overall mood for the Rose Fay Thomas luncheon. Dr. Ashley Hedrick was the keynote speaker for the RFT luncheon and described with great detail her work with the NFMC archival project and her dissertation. We welcomed several new RFT fellows this year including two from Florida: yours truly and Louis William Rose. The evening concert and reception honored the 2019 NFMC Young Artist Recipients. We were pleased to be able to hold both the finals and semifinals of this event within the hotel complex this year. All four winners of the Young Artist were fantastic! Lily Arbisser the winner of women's voice, Alexander Hersh winner of strings, Paul Wolf winner of man's voice, and Susan Yang winner of piano all represent the best of the best in the nation without a doubt.
A newly elected board took the helm of the organization on Friday morning. Following a rather animated annual business meeting led by Lana Bailey we flowed down a "Mighty River" with the pianistic talents of eleven-year-old Vincent Pham, winner of the Irene Muir Memorial Award at Florida's State Junior Convention. His fingers flew effortlessly over the keys in Mendelssohn's Rondo Capriccioso, to everyone's astonishment. The fifty-member NFMC Festival Chorus led by conductor Andre Ferreira and accompanied by Lori Jessen was splendid as always, and later in the day Louis William Rose answered the perennial question of "Why Bylaws?"  in his enlightening workshop. The evening formal banquet was an elegant event, honoring the State Presidents. Everyone was dressed magnificently and the table centerpieces and decorations were creatively arranged with a focus on Florida's beaches and orange fruit industry. Pat Howle proudly announced that she had once again worked her magic and gotten another RFT fellow while waiting three hours for me to join her at the hotel bar (I really did not know I was supposed to meet her there-I promise).  Gainesville Mayor Lauren Poe was the keynote speaker for the evening, and he discussed the role of arts in building complete communities while using some very interesting examples from his childhood concerning his musical development and engaging in various experiments learning different instruments…except for drums, which his parents discouraged. Former national presidents beautifully orchestrated the installation of officers, and all present witnessed the inauguration of NFMC President, Frances Nelson, aka Nelson 34. The Carney-Terrall Duo team, winners of the NFMC Ellis Competition for Duo Pianists, astounded all with performances of works by Copland and Bernstein. After the concert, a reception was held honoring retiring president Michael Edwards sponsored by Florida Federation of Music Clubs and Florida's Lake District.
Connie Randall, NFMC Chaplain, led an inspirational memorial service and breakfast on Saturday morning complete with exquisitely crafted handmade coasters that she gave as a gift to all attendees. What an amazing ending to a week full of music and memories! As an aside, many thanks to the Courtesy Resolutions Committee that sang a rousing rendition recapping the festivities in Jacksonville to the tune of the Beatles "Yesterday."
Official Call
Schedule
Registration & Meal Reservation
Voting & Memorial Form
Proposed Rules & Bylaw Changes
Slate of Officers
Nominee for Board Member-at-Large Bios
2019 Chair Reports
Finance PowerPoint
2019 Approved Budget