Great Music on a Great Lake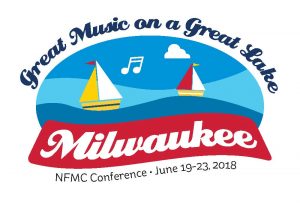 Milwaukee, Wisconsin
June 19 – 23, 2018
The 2018 NFMC Conference was held in Milwaukee, Wisconsin at the Crowne Plaza Hotel from June 19-23. There were many highlights during the week as long as everyone could ignore the cold rainy weather!
The kick-off concert on Tuesday evening was a spectacular performance by the Trinity Irish Dancers. They dazzled us with their sparkling costumes and precision dance.
The Rose Fay Thomas luncheon saw five new Rose Fay Thomas fellows announced bringing the total RFT fellows to 300. Wednesday evening, we were delighted by a piano concert performed by Dr. Jeffrey Hollander followed by a reception sponsored by the Wisconsin Federation of Music Clubs.
The five Regional Luncheons were held on Thursday, with table decorations representing five of the outdoor Milwaukee Music Festivals. President Edwards welcomed everyone by visiting each luncheon accompanied by Golden Eagle, the Marquette University basketball mascot. The tour of the Milwaukee River and Lake Michigan shoreline was cold and rainy but very informative and interesting. Following the tour, we travelled to the Bavarian Bierhaus for a German dinner with music by Alpine Blast. Upon return to the hotel, the NFMC 2017 Young Artist winner in men's voice, Andre Chiang, delighted us with his performance.
Friday morning began with the Annual Business Meeting, followed in the afternoon by the joyous concert of the NFMC Festival Chorus directed by Dr. James Norden. The banquet honoring the State Presidents followed later in the evening. An amazing and delightful performance by Stas Venglevski on the Bayan and Tatyana Krasnobayeva on the Dulcimer was the finale to the week's activities. The final reception was a sponsored memorial to Frank Cascio, a business and music legend in Milwaukee.
Saturday began with a Memorial Service followed by Junior Day with Randall Davidson presenting a Composition Masterclass.
There were many interesting presentations throughout the week as well as performances by four National Junior winners from Wisconsin and Illinois.
I would like to thank my chairs for all of their time and talent in helping to prepare for the 2018 conference: Richard Hryniewicki-Program Coordinator/Sponsorships, Heidi Hong-Hospitality/Decorations, Cathy Paquette-Registration, Peter Olson-Transportation, Susan Daniels-Decorations and Susan McTaggart-Advertising. The Wisconsin Federation of Music Clubs was delighted to host the 2018 NFMC Conference and to welcome Federation Members from around the country to Milwaukee
Jeanne Hryniewicki
Conference Chair
Official Call
Daily Schedule
Activity & Meal Registration
Voting Credentials & Memorial Contribution Form
Proposed Bylaw Changes
Conference Survey
Chair Reports