Great Music on a Great Lake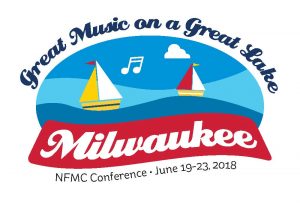 Milwaukee, Wisconsin
June 19 – 23, 2018
You are all invited to Milwaukee for the 2018 Conference which will be held at  the Crowne Plaza Hotel, Airport. There will be meetings, workshops and clinics during the day along with some special performances by our Junior Wisconsin and Illinois Award winners. The Rose Fay Thomas luncheon will include a surprise featuring Wisconsin cheese.
Because Milwaukee is a potpourri of ethnic groups, we would like to share some of this local culture with you. On Tuesday evening you will be delighted by a performance of the Trinity Irish Dancers, the most widely recognized Irish Dance group in the world. Wednesday, we will hear Dr. Jeffrey Hollander, retired University of Wisconsin professor of music and internationally acclaimed soloist. Thursday brings us the Young Artist winner, Andre Chiang and Friday we will hear a performance from our own Stas Venglesvski on the Bayan Accordion together with Tatyana Krasnobayeva who will be playing her beautiful dulcimer dating back to sixteenth century Belarus.
We have a very special tour planned for you starting out with a narrated cruise
highlighting the Milwaukee River and the Lake Michigan shoreline, followed by an authentic German dinner at the Bavarian Bierhaus complemented by Tyrolean music.
Don't miss our Friday night dinner honoring all the State Presidents and hear about a Wisconsin Legend, Les Paul.
Located on the shores of Lake Michigan, Milwaukee is famous for its breweries and major league baseball team, the Milwaukee Brewers.  Milwaukee is rich in historical and cultural attractions including the Milwaukee Art Museum with its distinctive Calatrava, the Harley Davidson Museum, St. Josaphat's Basilica, and the beautiful Pabst Mansion. Summer brings almost weekly outdoor ethnic music festivals to Milwaukee, and also the world's largest music celebration, Summerfest.
We hope you can extend your stay in Milwaukee and partake of some of our special attractions.
Jeanne Hryniewicki
Conference Chair
Official Call
Daily Schedule
Activity & Meal Registration
Voting Credentials & Memorial Contribution Form
Proposed Bylaw Changes
Conference Survey
Chair Reports